Italy vs. Ireland - Predict the Score
Closing Date: :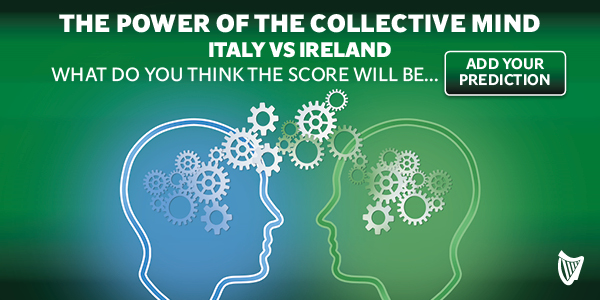 The definition of Collective Intelligence is...
'a shared or group intelligence that emerges from the collaboration and competition of many individuals.'
We are asking our readers to predict the score of Ireland's Six Nations match versus Italy.
We will share the collective results of your guesses on 22nd February, two days before the big match, in our International Rugby Newsletter, to which you can subscribe below.
As a helping hand note that the average score over the last 10 Six Nations meetings between the pair is;
Italy 11.7; Ireland 38.6
Please sign in or register to Independent.ie to enter the competition
Terms & Conditions By submitting your details, you consent to your data being managed in accordance with our Privacy Statement. Specific Terms and Conditions

The contest runs from 8th February to 22nd February 2019 at 9.00am
To enter your prediction, fill in your details.
If you subscribe to a the International Rugby email newsletter, please note you can unsubscribe at anytime by clicking the unsubscribe link at the bottom of each email newsletter.
Collective results of your predictions will be shared on 22nd February in our International Rugby Newsletter.